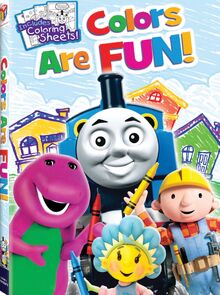 Colors Are Fun! was released on 9 February 2010. It has a runtime of fifty-three minutes. It features an eleventh season episode of Bob the Builder. The DVD includes some coloring pages.
Description
A colorful adventure awaits! You'll be painted from head to toe in delight when you join your favorite preschool friends in these exciting adventures. Come along with Barney and find out how bright the sunshine is when colors dance in the air, Bob the Builder as he discovers rich cave paintings, and Thomas as he collects colorful items for a magic show. These adventures will show you the true colors of friendship and fun.
Episodes
Special Features
A bonus episode of "Fifi and the Flowertots" - "Blueberry Surprise".
Community content is available under
CC-BY-SA
unless otherwise noted.