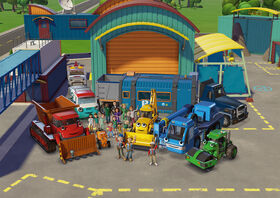 In November of 2014, it was announced a reboot of the Bob the Builder franchise would premier on UK's Channel 5 Milkshake! on September 1st, 2015. Later on, the official Bob the Builder US YouTube channel confirmed the show would come to the United States on PBS Kids in November 2015.
About
The characters were redesigned and their voices recast. The redesigns received negative criticism from fans of the original show, but the episodes gained more positive reception when released. It is currently unknown if any other characters from the Original Series, Project: Build It, or Ready, Steady, Build! will appear.
Mainframe Animation (a division of Rainmaker Entertainment) was the animation studio for the series until Season 3, Where DHX Media of MLP and Teletubbies fame is now the animation studio, while additional animation for online videos/inbetween shorts are produced by Brown Bag Films. Also, Muck is now male in both the US and the UK. The US dub is now done in Canada, and as a result, several notable Canadian voice actors, including Colin Murdock (Bob), Vincent Tong (Muck), Ian James Corlett (Roley and Mr. Bentley) and his daughter, Claire Corlett (Dizzy), Richard Newman (Two-Tonne), and Lee Tockar (Tiny), are involved in the series, Nancy Cartwright of Simpsons fame is also involved.
Settings
New characters included are Leo, Mayor Maria Madison, The Spring City Rockets, Curtis, Vet Tilly, Dash Lightning, Chef Tattie, Jenny Dobbs and new machines, Two-Tonne, Betsy, Alfred, Philip, Tiny, Stretch, Tread, Shifter, Ace, Crunch, Thud, Norm, Rocky and Picksy
Canonical Problems
This series is obviously not canon to the classic, as many fundamental features of the show, such as the characters' personalities, catchphrases, and designs have changed. Furthermore, the voice actors, which had always been the same from the Original Series to Ready, Steady, Build! in both the original British dub and the American dub, are suddenly different. Some of the characters, including, Scoop and Wendy, seem to be younger than their classic counterparts.
The characters bear little resemblance to their stop-motion and the Ready, Steady, Build CGI series counterparts. According to a YouTuber called James A. Williams, in his The Problems of the Bob the Builder Reboot video, he was reviewing everything wrong with the reboot, the personalities of each character except for Bob, Wendy and Dizzy have been abruptly changed. Mr. Bentley who is not a building inspector like in the original series, is Mayor Madison's assistant and a bumbling buffoon. Scoop is now the unofficial leader, is less mature, is rather careless, clumsy, and has a similar personality to classic Lofty and Spud. Williams even went on saying Scoop in the original series was more sensible and reliable, which is why Bob & Wendy could trust him when he was made the team-leader. Lofty is no longer cowardly, has become completely sarcastic, cynical, intelligent, isn't scared of anything anymore, and does not even say "Er" or "Uh" before his words like "Yeah, I think so" anymore somehow. Roley does not have the same design as his classic counterpart, yet he is rather fussy and keeps on making sure the ground is flat as possible instead of just wanting it smooth and calm with a love of music, and Wendy is now an electrician rather than an office secretary (or even a builder like Bob anymore) who is heavily involved in construction jobs (she also doesn't wear earrings anymore), and Muck has become pretty dimwitted, plus, he is no longer female in the US version, this means that Muck is male, which can cause confusion to people that live in the United States of America who grew up watching the US dub, it was the same problem as the original series when Muck is male in the UK version, and Muck was female in the US version.
James has even stated that the realistic designs of the vehicles were lazy, he mentioned that the designers could possibly be taking a photo of a real construction vehicle and generically slapping a face on it to make a "new character". The same also goes to Thomas the Tank Engine & Friends for the tank engines and other locomotives since that show was meant to be taken as realistic as possible. Mentioning while the original show was never meant to look or be realistic, the only realistic thing the original show had were the life lessons and the construction work and safety as they were trying to teach within the show. Aside from the reboot being realistic, James have even went on questioning why they would keep Pilchard as a blue cat, but not allow Spud, who is a walking talking scarecrow be in the realistic world the show was going for. Or at least a character similar to him. In one of the reboot's episodes, Cats and Dogs, he wondered why that it should be a good idea to have a blue cat be chased by a normal brown and white dog in a realistic vet.
Williams even went on saying that the reboot didn't try to bring back any old characters from the original but rather new characters entirely, he claimed that they were using redesigned characters from the original with new names and different coats of paint. He went on saying how Shifter was Trix, Two-Tonne was Packer (Also a rip-off of Tumbler due to him having a cement mixer attachment.) Stretch was a combination of Gripper and Grabber, Picksy was Flex, Thud was Rubble and Rocky was Scratch. Stating that calling them new characters would be bit of a stretch.
Travis, Bird, Scruffty, Scrambler, Spud, Scratch, Gripper and Grabber, Tumbler, and some others that appeared from the Original Series, Ready, Steady, Build!, nor Project: Build It do not appear in this reboot, further showing that it is non-canon to the original series. The series is set in a big city called Spring City rather than the traditional small village like Bobsville as an example.
However, Fixham from the Ready, Steady, Build! series is still featured. In the app, Build City, the classic series theme tune is played on instrumental. Farmer Pickles returns in the third season episode, Barn Building Bedlam, he was the only character from the original series to come back after Bob, Wendy, Pilchard, and the original team first appeared in the reboot. Farmer Pickles was also voiced by Rob Rackstraw, who had returned to the cast in 2018 after he originally left 6 years before.
Trivia
Reception
The series was met with negative reception and reviews from fans and critics due to the visual redesign, changes to the characters personalities and modernization. There was also believed to have some criticism for episodes giving some new characters no introductory backstories whatsoever.
HiT Entertainment and Mattel have not officially responded to this criticism.
Cast
US
UK
See Also
Gallery
Source
Extra Links
This 2015 reboot has it's own wiki for content related to the reboot series.