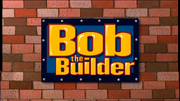 "Can we fix it? Yes we can!"
―Bob the Builder Catchphrase
The Original Series of Bob the Builder ran between 1998-2004 in the United Kingdom and between 2001-2005 in the United States. The series was based on characters created by Keith Chapman, and was animated by HOT Animation using physical stop-motion models. This show was the most popular out of all the later incarnations.
About
In the original series, Bob appears as a building contractor specializing in masonry in a stop motion animated program living in a small town called Bobsville with his colleague Wendy, various neighbors and friends such as Percy Pickles, Spud, Angelo Sabatini, J.J., Mr. Bentley and their crew of anthropomorphize work and consturction-vehicles which include: Scoop a digger, Muck a dumper, Dizzy a cement mixer, Roley a steam roller, and Lofty a crane. All episodes were produced by HiT Entertainment and all episodes aired on the BBC in the United Kingdom and also aired a US Dub version of the show which aired on PBS and Nick Jr.
Impact
Bob the Builder was nominated in the BAFTA "Preschool animation" category from 1999 to 2009, and won the "Children's Animation" category in 2003 for the special episode "A Christmas to Remember". Of the show's success, Sarah Ball said:
"I think diggers and dumpers fascinate kids in the same way that they are drawn to dinosaurs. They both have a timeless appeal. The technique of stop motion is very tangible - the characters look like you can just pick them up and play with them. It's a safe, lovely, bright, colourful world, which is very appealing. Curtis Jobling did a fantastic job designing the show - it's very simple and stylized but has such charm."
―Interview with Sarah Ball, Gurgle.com
Series Overview
Se
Ep
Originally aired
First aired
Last aired
1
13
November 28, 1998
February 21, 1999
2
13
June 04, 1999
August 27, 1999
3
13
December 24, 1999
April 01, 2000
4
13
September 19, 2000
December 05, 2000
5
13
January 06, 2001
March 31, 2001
6
13
September 02, 2002
September 14, 2002
7
13
February 03, 2003
February 20, 2003
8
13
September 01, 2003
November 24, 2003
9
13
April 03, 2004
December 20, 2004
NOTE: For US dates see here
Other Languages
Bob Die Bouwer (Afrikaans)
Bob Ndertuesi (Albanian)
Bob Al Banna (Arabic)
Bob El Constructor (Argentine Spanish)
Bob Shinarar (Armenian)
Bob Da Baumeister (Austrian German)
Usta Bob (Azerbaijani)
Bob Eraikitzailea (Basque)
Bob Da Buildar (Bengali)
Graditelji Bob (Bosnian)
Bob o Construtor (Brazilian Portuguese)
Bob The Builder (British)
Stroitelyat Bob (Bulgarian)
Bob The Builder (Canadian English)
Bob Le Bricoleur (Canadian French)
Baobo Jianzhuzhe (Cantonese)
Bob y sus Amigos (Castilian Spanish)
Bob el Manetes (Catalan)
Babu Gongchengshi (Chinese)
Bob Graditelji (Croatian)
Borek Stavitel (Czech)
Byggemand Bob (Danish)
Bob de Bouwer (Dutch)
Bob The Builder (English)
Bob o Construtor (European Portuguese)
Ehitaja Bob (Estonian)
O Bob Na Dautaravale (Fijian)
Bob The Builder (Fijian English)
Bob And The Monster (Fijian Hindi)
Puuha-Pete (Finnish)
Bob De Bouwer (Flemish Dutch)
Bob Le Bricoleur (Flemish French)
Bob le Bricoleur (French)
Bob der Baumeister (German)
Bob o Mastoras (Greek)
Bob De Boumaa (Haitian Creole)
O Bob Ka Kahu Hale (Hawaiian)
Bob Ha Banai (Hebrew)
Bob da Bildar (Hindi)
Ntsa Bob (Hmong)
Bob a Mester (Hungarian)
Bubbi Byggir (Icelandic)
Bob The Builder (Indonesian)
Bob The Builder (Irish)
Bob Aggiustattuto (Italian)
ボブとブーブーズ (Japanese)
Bob The Builder (Javanese)
Bab Ajeossi (Korean)
Robertus Faber (Latin)
Bob El Constructor (Latin Spanish)
Celtnieks Bobs (Latvian)
Statybininkas Bobas (Lithuanian)
Bob the Builder (Malay)
Bob Graditel (Macedonian)
Bob The Builder (Maori)
Bob Barilgachin (Mongolian)
Byggmester Bob (Norwegian)
Bab Miemar (Persian)
Bob Budowniczy (Polish)
Bauba Bilaḍara (Punjabi)
Bob Constructorul (Romanian)
Bob Stroitel (Russian)
Calum Clachair (Scottish Gaelic)
Majstor Bob (Serbian)
Bob The Builder (Singaporean English)
Bob Staviteľ (Slovak)
Mojster Miha (Slovenian)
Ahdja Desde (Somali)
Bob The Builder (Spain English)
Bob Mjenzi (Swahili)
Byggare Bob (Swedish)
Bob de Boumaa (Swiss German)
Bob Budowniczy (Swiss Polish)
Bob The Builder (Tagalog)
Bxb Nạk Srang Mux Chmang (Thai)
Jianzhushi Babu (Taiwanese)
Bob The Builder (Tamil)
Bora Usta (Turkish)
Bob Budivnyk (Ukranian)
Quruvchi Bob (Uzbek)
Bob El Constructor (Venezuelan Spanish)
Bob Chang Tho Xay Cham Chi (Vietnamese)
Bob y Bildar (Welsh)
Aiwbyp Je Avre (Xhosa)
Bab Der Boyer (Yiddish)
Bob I Umakhi (Zulu)
Trivia
Seasons 1-4 are available in complete series DVDs. Seasons 6-9 are currently available in complete sets on the CBeebies website. Season 5 was later given a complete release set when the UK series was added to Paramount+.
This series is the only series to have the original music soundtrack before Project: Build It and Ready, Steady, Build! introduced new music soundtracks that were done by Keith Hopwood beginning with Bob's Big Plan in Series 10-18.
Seasons 1-6 premiered on Nick Jr. in the US between 2001-03 while Seasons 7-9 premiered on PBS in early 2005. It is unknown why they didn't premier on Nick Jr. in 2003 or 2004. Though, Season 7 was released on home media between 2003-04.
Canada aired both dubs of the show. The US dub was shown on Treehouse TV while the UK dub was shown on Canada's BBC Kids.
In November 2018, the BBC posted every episode from Seasons 6 to 9 on the official CBeebies website and BBC iPlayer for the 20th anniversary of the series, the rest of the series was later added in September 2020.
Unlike the UK, most of the voices from the US dub changed throughout Project: Build It and Ready, Steady, Build!, with Bob, Dizzy, Roley, Lofty, Spud, Mr. Bentley, Farmer Pickles, Scoop, and other characters getting new voice-actors and actresses (with the exception of Wendy) after the end of main series from the original show ended and the Snowed Under movie leading up to the Project: Build It with the introduction of Scrambler. It is unknown why most of the original voices from the US dub either got replaced or why they left.
Seasons 3-9 are the only seasons to be fully released on home media in North America. Season 1 is missing one episode while Season 2 is missing two episodes.

However, Kristopher Walker uploaded recordings of all three missing episodes, one in 2018, and the other two in 2020 making all US episodes (minus the shorts) completed.

The UK dub aired for the first time in the US on Qubo debuting on October 7, 2020 (starting with Season 2, though unknown why Season 1 was not shown given Qubo is still a 4:3 ratio channel). This was likely because Universal Kids still owns the US dub and the episodes were distributed from WildBrain which currently owns the UK dub. Though this wasn't the first time it aired in North America as it aired previously on one of Canada's BBC channels while the US DUB has always aired on Treehouse.
There were a total of 3 sets of animation props used for filming. One set is on display in Keith Chapman's home.
Gallery
Community content is available under
CC-BY-SA
unless otherwise noted.